POPSUGAR sent me this Must Have Box to try. As always, all opinions are my own.
Was it just me or was October the quickest month ever? Between weddings, family activities and Fall activities, it seemed like the whole month just flew by! Another highlight of last month was the October POPSUGAR Must Have Box.   I really loved September's Must Have Box, but October was even better! Check out everything from this month's box and use the code below to get in on the action!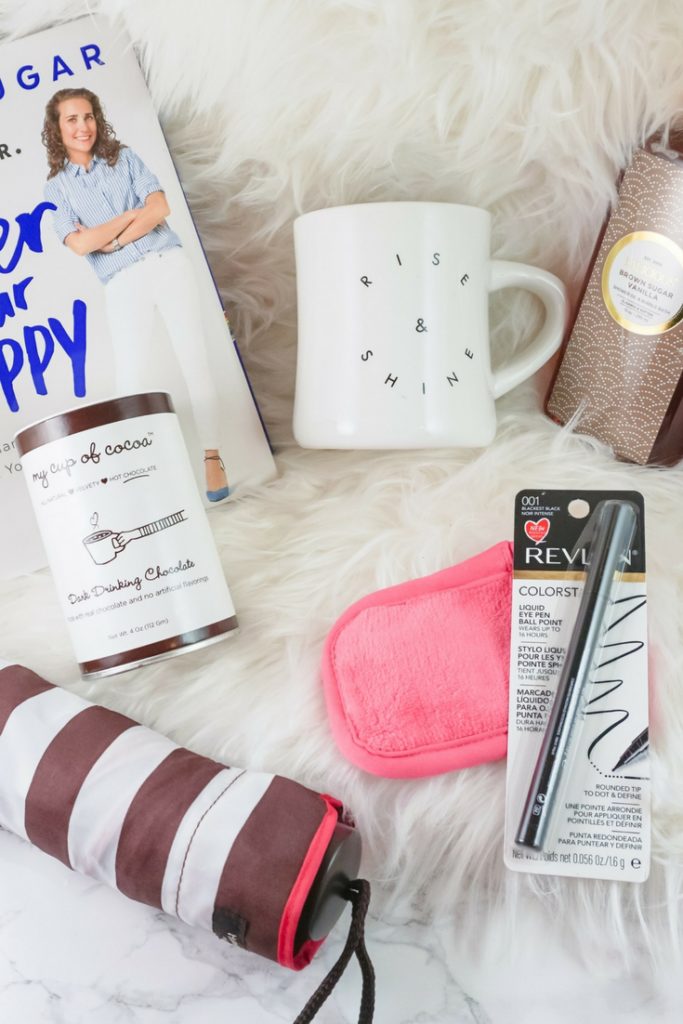 Henri Bendel Packable Umbrella ($58)
This umbrella totally saved me from the rain last week in NYC. It's so adorable and pretty compact, so it may have a permanent home in my bag. Now, I just need some matching pink rainboots.
Lalicious Brown Sugar Vanilla Shower Oil and Bubble Bath ($28)
I haven't used this yet, but it smells AMAZING and I can't wait to try it once this surprisingly warm weather leaves.
My Cup of Cocoa Dark Drinking Chocolate ( $4.99)
I'm a huge fan of hot chocolate in the winter, so I was really excited to see a new brand to try. It's super affordable and the packaging is adorable, making it a perfect gift for the holidays!
Morning Culture Rise & Shine Diner Mug ($16)
I may or may not have an obsession with coffee mugs (just ask my husband) and I'm really excited to add this one to my collection.
Power Your Happy ($25)
I grabbed this for my train ride to NYC last week and was pleasantly surprised. I've always been a big POPSUGAR fan, but reading Lisa's story about building it from the ground up has been so inspiring.
Makeup Eraser The Makeup Eraser Mini ($12)
I was a little hesitant about this, but it did the trick! I've only tried it after a normal work day, and not on any crazy eye makeup, but if it lasts 1,000 washes like it says — you can count me in!
REVLON ColorStay Liquid Eye Pen ($8.99)
I'll be the first to admit that my eyeliner skills are lacking. Application was pretty easy and lasted until the Makeup Eraser took care of it!
Overall, this box was a huge value coming in at a total of $152.98 worth of products for only $39.95 per month. Plus, you can shop here and use the code SHOP5 for $5 off of your first #MustHaveBox!
Save
Save