POPSUGAR sent me the November Must Have Box to try. As always, all opinions are my own.
Somehow, every POPSUGAR Must Have box seems to outdo the last.  I'm still loving the Lalicious Brown Sugar Vanilla Shower Oil & Bubble Bath from last month's box (P.S. It would make a great gift!).  I don't know if it's because of the upcoming holidays, but I have been on a serious home decor kick and there were two adorable home items in this box.  So, let's get to it.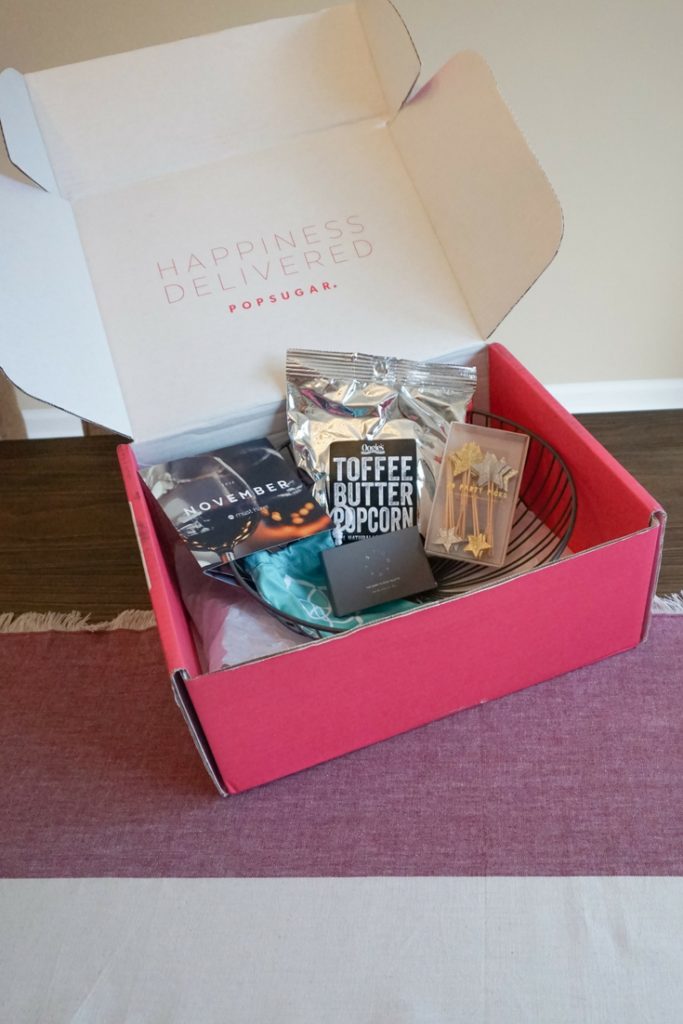 Kendra Scott Elaina Rose Gold Bracelet in White Pearl ($50)
I've been dying to get my hands on some Kendra Scott and it was like Christmas came early when I saw this adorable bracelet.  I'm already planning on wearing it tomorrow and I'm sure it'll be on repeat through the holidays.  Plus, the closure is SUPER cute and so easy to put on by myself.
Pehr Chambray Runner in Wine ($44)
Did someone say wine? I'm crushing on this runner pretty hard.  I even broke out the iron so I could put it on our table immediately… and I never iron.  It's perfect for the Fall and I think it could work for both Thanksgiving and into December.
Stowaway Cosmetics Dawn to Dusk Palette ($25)
This super compact palette is perfect for the girl on the go.  We're taking a little road trip up to Lake George after Thanksgiving and this will definitely be coming along for the ride.
AJ Goods Nest Wire Bowl ($35)
I think my husband was most excited about this.  "What is it? A bowl? What can we put in it? Fruit?" It's currently sitting on our table waiting to be filled with ornaments when we finally start decorating for Christmas.
Meri Meri Star Party Picks ($8)
These are SO adorable.  My first thought was that they would be perfect for my 30th birthday coming up in a few short months but then I remembered that New Year's Eve is quickly approaching and these would be perfect on appetizers, cupcakes or even as a cocktail garnish.  Pretty sure that will be happening 😉
Oogie's Gourmet Toffee Butter Popcorn ($2.99)
It's honestly a miracle that these even made it into a photograph.  I had all intentions of taking a cute photo while I was actually snacking on them but they were so good that they disappeared in seconds.
The POPSUGAR November Must Have box came in at $164.99 worth of products for only $39.95. As always, you can shop here and use the code SHOP5 for $5 off of your first #MustHaveBox!