This post is brought to you in partnership with Framebridge. 
About a week ago was our two year house-iversary, and we are celebrating by putting the final touches on our finished basement. When we first looked at this house, we fell in love with the yard and the basement. The basement needed a lot of work but it did have a built in bar, a guest room/office and a full bathroom with laundry hookups. It also had some interesting wall colors, wall to wall shag carpet… and a built in fish tank. Although our inspector made us aware that the water heater and furnace were original to the house, we ended up having to replace both within the first year of homeownership which definitely delayed the basement progress. But seriously, check out this collage of before photos from the real estate listing: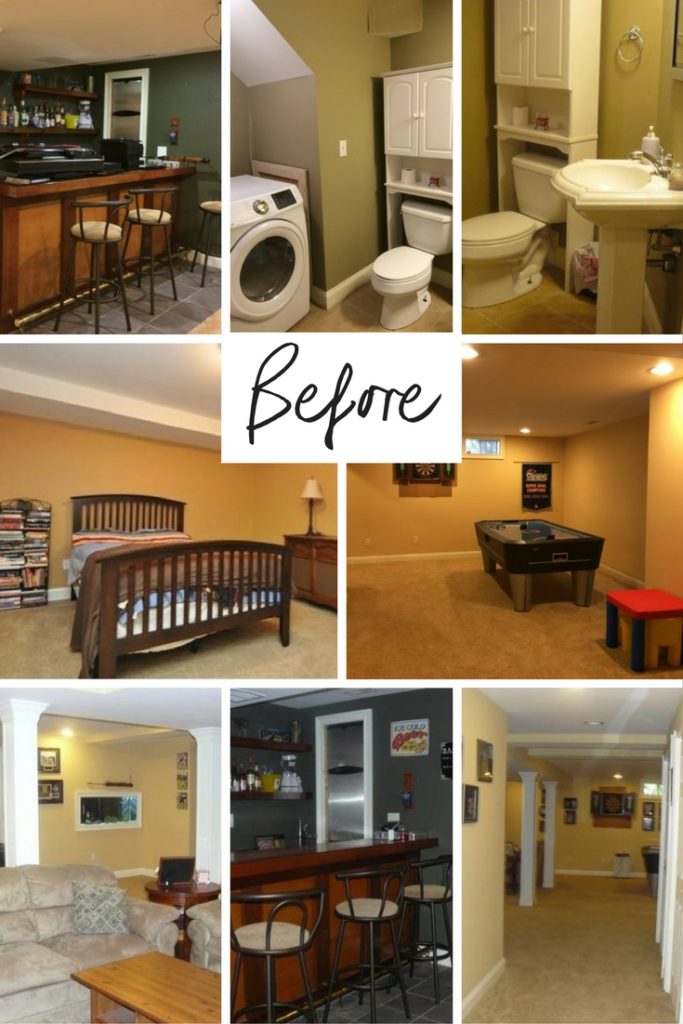 The laundry room/bathroom hasn't gotten much love other than a new washer a dryer, a fresh coat of paint and some new fixtures. We still have a little decorating to do, but it gets the job done. We chose Behr "Varnished Ivory" for this room and I'm hoping to add some shelves and wall decor.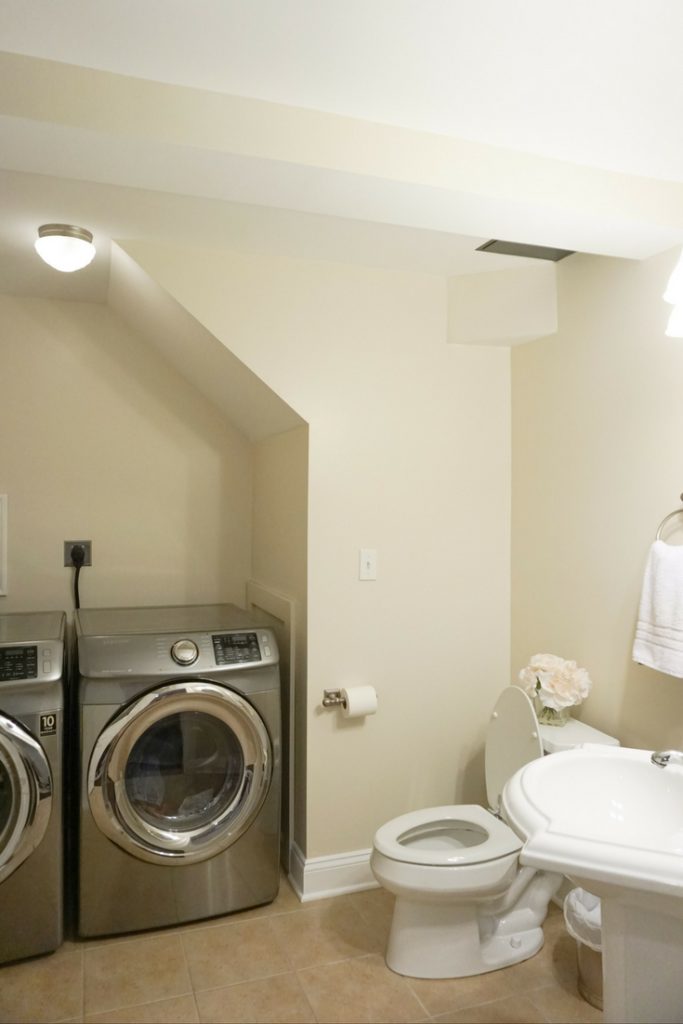 Our office is shaping up to be one of my favorite spots in our house. We swapped the orange paint for Benjamin Moore "Simply White" to brighten it up. Because there are no windows in the room, I convinced my husband that we needed a french door for extra light and it's perfect. The cat's litter box is in the room next door (with that sparkly new furnace), so we built her a custom cat door to access it. #spoiled. Plus, if we have people over, we can put her away in her own space without having to worry about someone leaving the door open and her getting outside.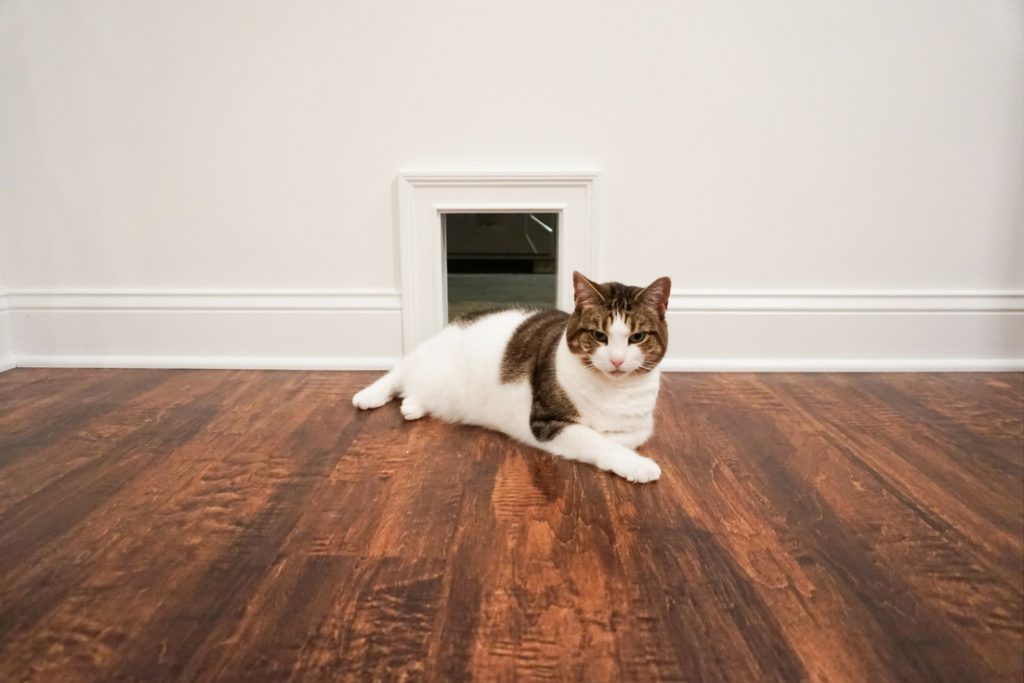 We started by ripping up the carpet. With about 1,000 square feet of floor space, we needed to be economical. My father-in-law found us a great deal on luxury vinyl tile and we hired a contractor to install it.  Because the space is so large, I wanted to stick with neutral paint colors that would go with everything and last the test of time. We narrowed it down to Benjamin Moore "Revere Pewter" and I couldn't be happier with our choice.
After all of that hard work, I teamed up with
Framebridge
for the perfect finishing touches.  You can either upload a digital file, or send in your items. They'll send a pre-paid mailer for you to ship your art/print/posters back in and send you back your art in a gorgeous custom frame. They'll even frame items like wedding mementos or jerseys! I knew exactly what I wanted, but in case you need design help, they'll recommend frames to go with your pieces.
The majority of this space will be a man cave/media room/living area so my husband thought it would be cool to frame some movie posters. He picked his four favorite movies and I picked the Tacoma frame to match.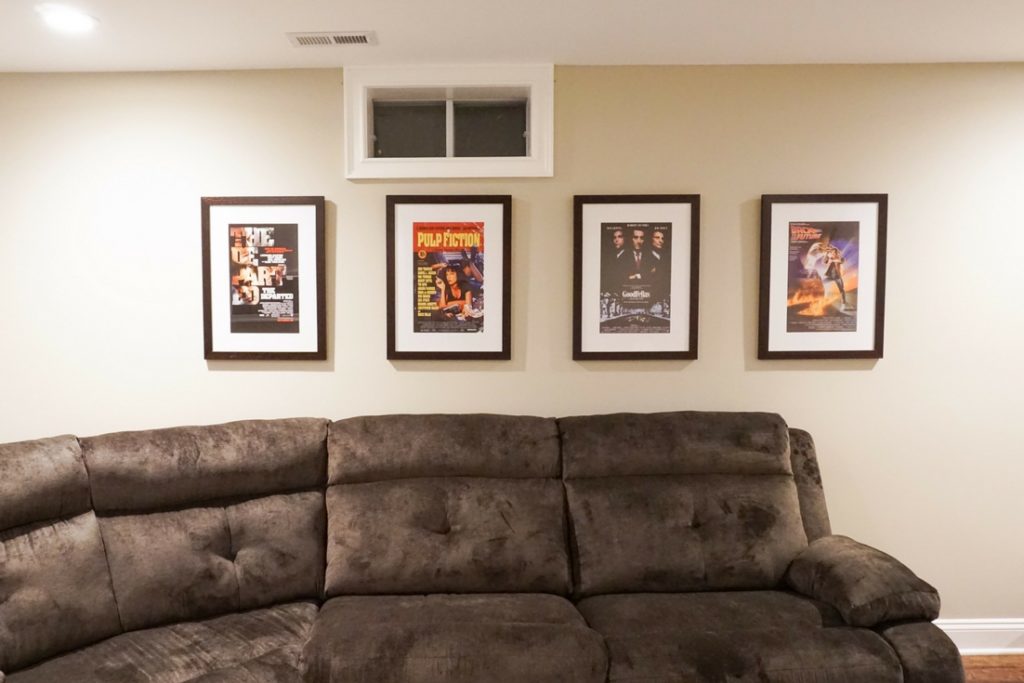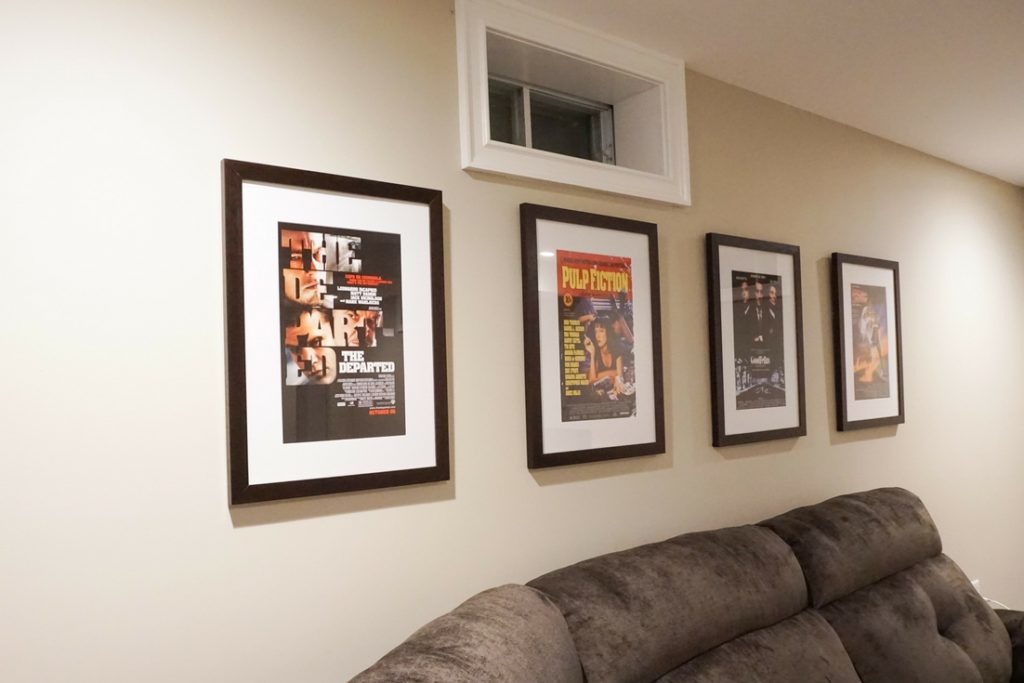 The posters came out really good, and they really tie the whole area together.  Right behind the couch is the bar area.  We've added a few personal touches and are loving the way it's coming along.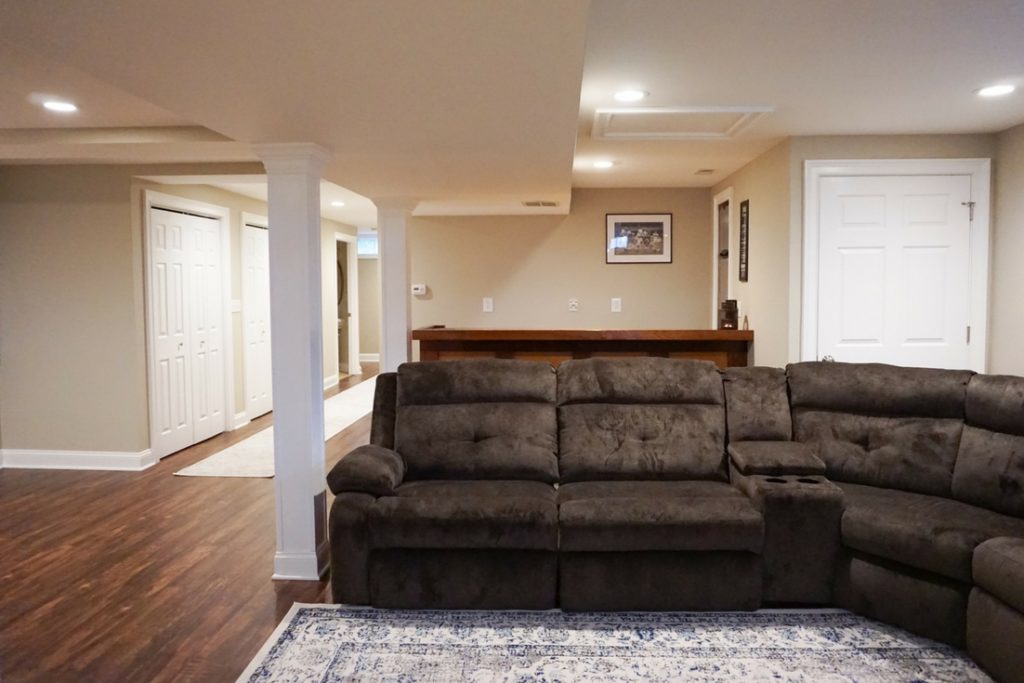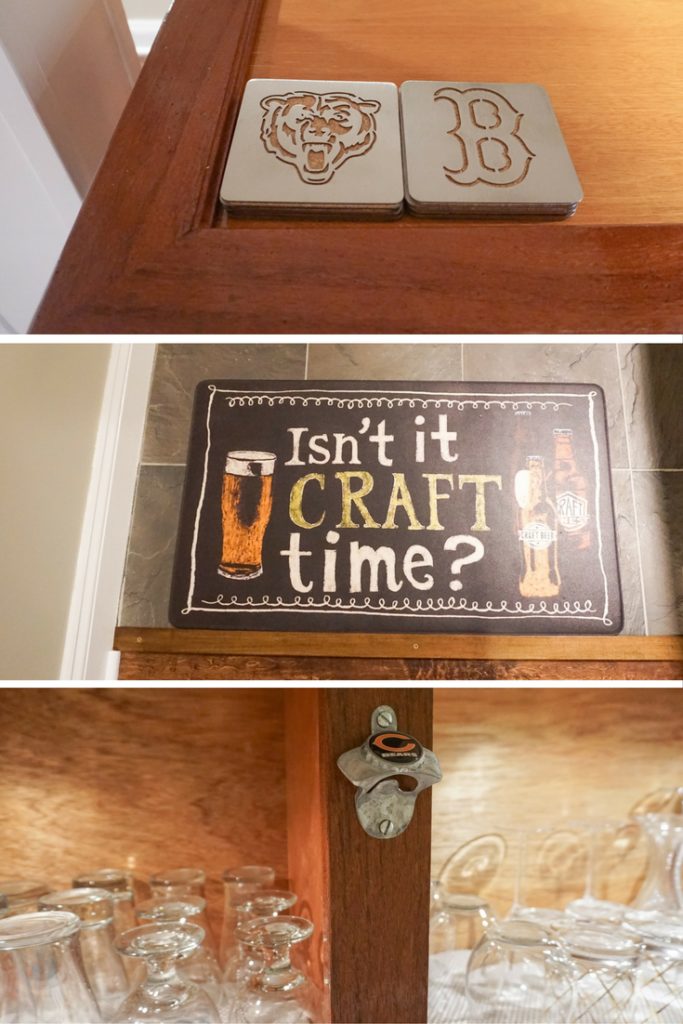 We're coming up on our one year wedding anniversary and still didn't have any wedding photos framed, so I selected the Bowery frame and sent a digital file of one of our favorite wedding shots to Framebridge.  I could not believe my eyes when I opened the package and it looks absolutely amazing in our office.  Look at the gorgeous detail on this frame!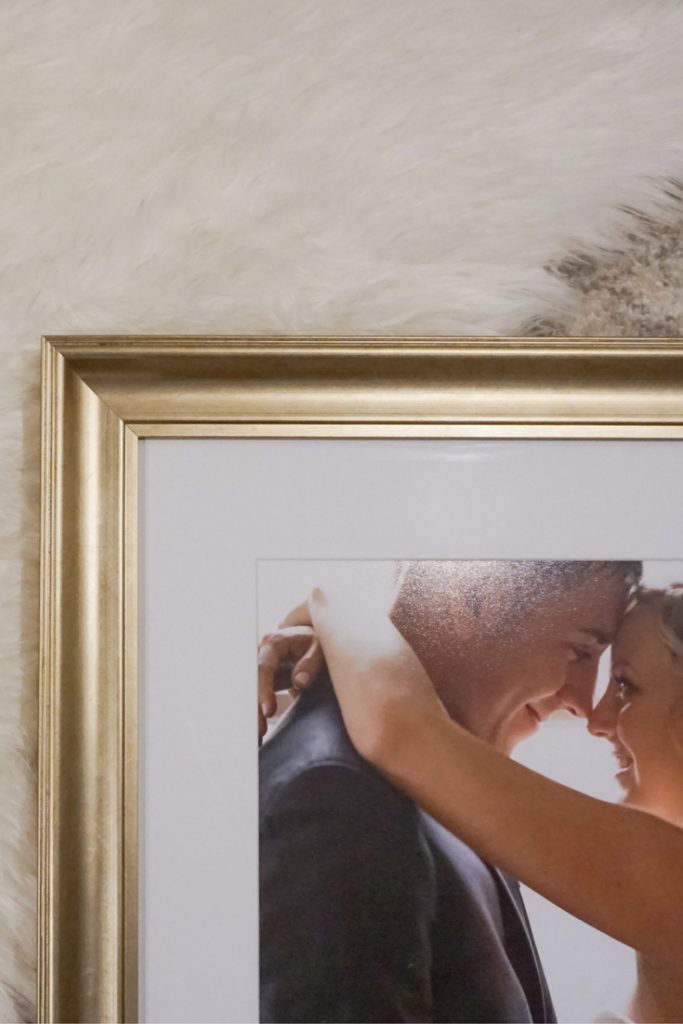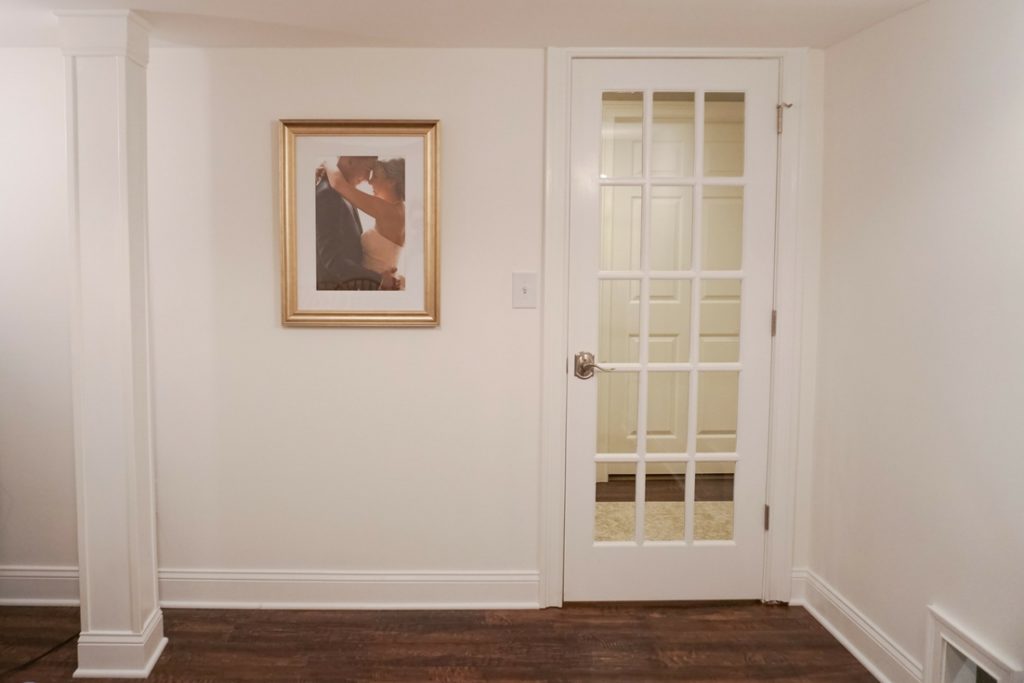 All in all, I can't say enough wonderful things about our experience with Framebridge. If you're looking for the perfect Christmas gift, you can save 15% off of your first
Framebridge
purchase with the code
WITHLOVE15
. Keep in mind, if you're mailing in items, you must order by 12/4 and if you're using a digital file you have until 12/18 for holiday delivery. Happy decorating!