POPSUGAR sent me the June Must Have Box to try. As always, all opinions are my own. This post contains affiliate links.

Hey guys! Sorry this post is a little delayed, I didn't get the June box until right before the holiday and it took me until now to try everything out. There is some really cute stuff for Summer in here, and here's a look at a few of my favorites: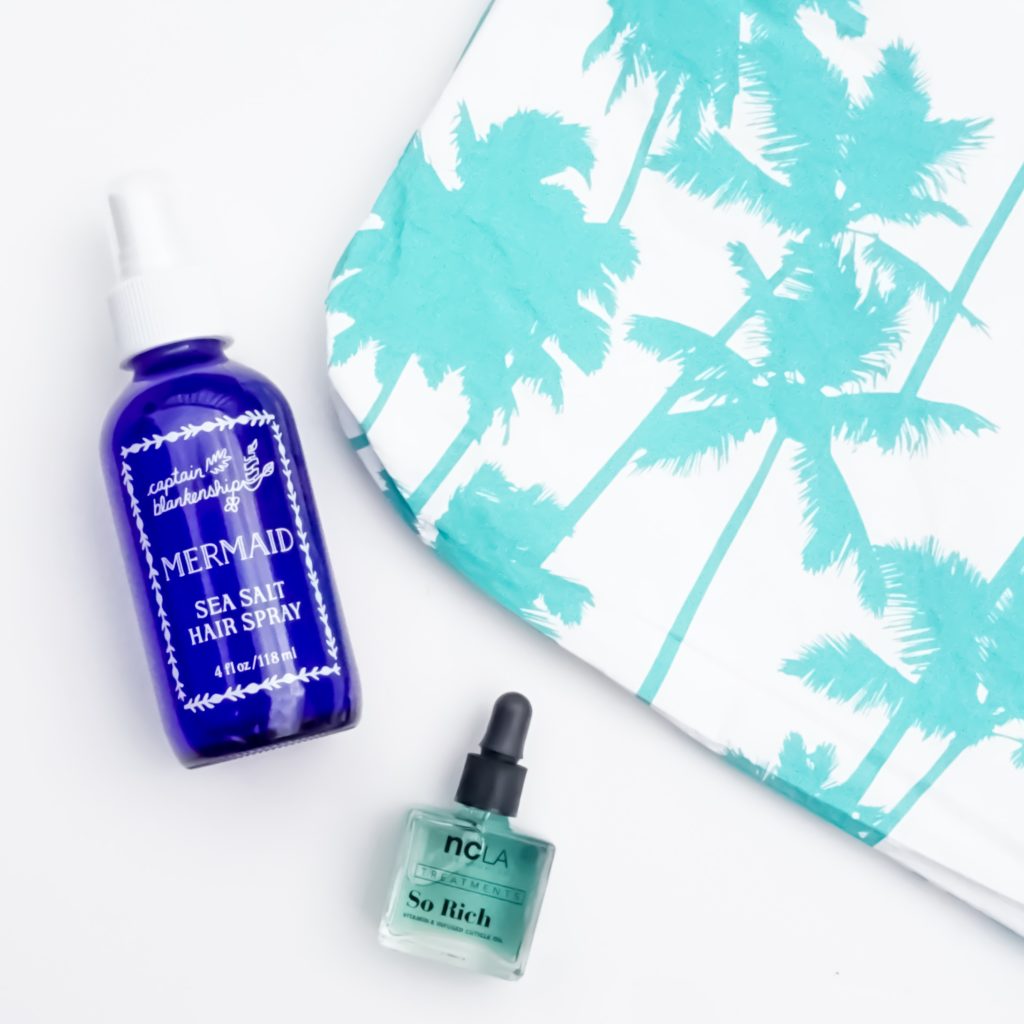 Top three favorites from the June PopSugar Must Have Box:
Captain Blankenship – Mermaid Sea Salt Hair Spray: I love sea salt hairspray in the summer for perfect beach waves. It's also perfect for those days when you need to stretch your hair one more day before washing. The packaging on this is adorable and it smells really good, plus, it has aloe vera to nourish your hair!
NCLA So Rich – Mermaid Tears: Speaking of nourishment, I love this NCLA cuticle oil. Smells and works great and the name is super cute! I've always been impressed by NCLA products and this is no exception.
Aloha Collection – Mid-size Ocean Coco Palms Pouch: I love that this palm tree print pouch is dual purpose. It keeps everything dry when you're at the pool/beach and after a day of fun, you can throw your wet swimsuit in it without having to worry about anything else getting wet.
The box also included:
Billabong – Aloha Forever Trucker Hat: This is cute, but not really my style. I'll keep it around in case I have an occasion to wear a trucker hat… or let my sister borrow it.
The Seven Husbands of Evelyn Hugo by Taylor Jenkins Reid: I couldn't include this in my top picks because I haven't had a chance to start it yet. That being said, it does look pretty good and I will definitely be reading it this summer. Let me know if you want a review!
Belgian Boys – Mini Cookie Stash: These are delicious and this mini bag is perfect for on-the-go snacking!
Meri Meri – Blue and White Party Straws: You may have seen these in my festive 4th of July Insta-stories with my bomb pop drink. They're super cute for parties, or for drinking holiday cocktails in your backyard 😉
Starbucks Frappaccino Coffee Drink: I love the Starbucks Frappaccino drinks in store, and I especially love being able to keep these in the fridge.
So that's it! What did you think of June's PopSugar Must Have Box? If you're interested in signing up, use the code SHOP5 for $5 off your first PopSugar Must Have Box!
Save
Save