POPSUGAR sent me the January Must Have Box to try. As always, all opinions are my own.
As you know,  I've been really really happy with my PopSugar boxes so far.  This wasn't filled with the typical home/jewelry/beauty products I love, but these are definitely more practical.  Check out the rest of the post to see my surprising favorite (and super affordable!) item from the POPSUGAR January Must Have Box.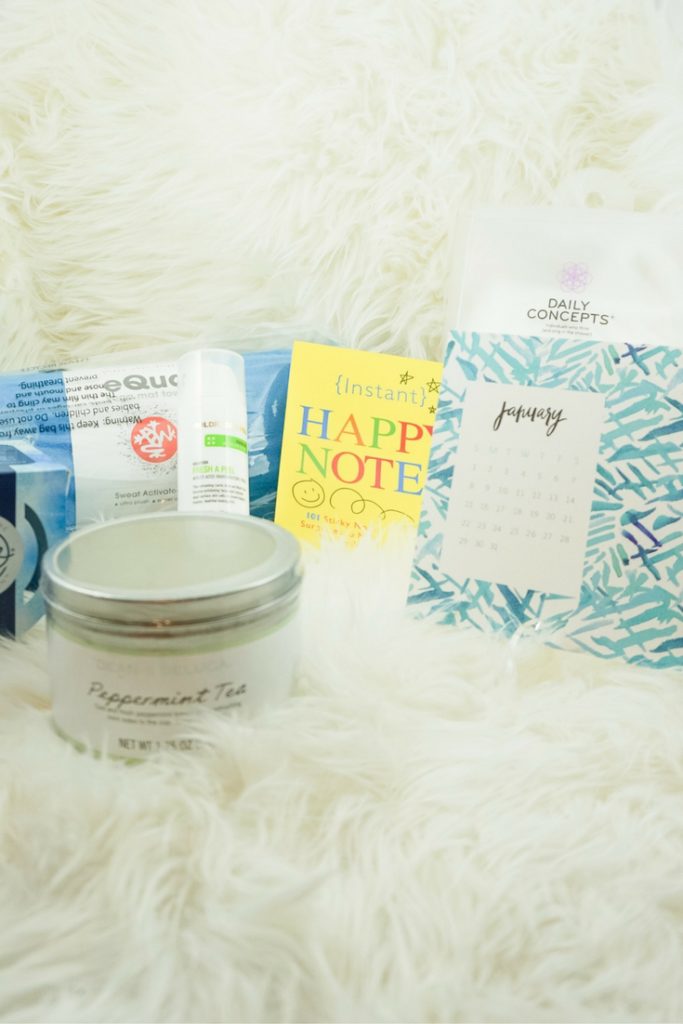 Goldfaden MD Fresh A Peel Multi Acid Resurfacing Peel ($85) I was most excited about this product, but unfortunately, also most disappointed by it.  Maybe because it's the middle of winter and I'm already struggling with dry skin, this peeled a little too much for my liking… and I really didn't enjoy the scent. I've read great reviews though, so I will definitely give it another shot once this weather warms up a bit.
May Designs Desk Calendar ($25) I'm a sucker for office supplies and this adorable monthly desk calendar is the perfect new addition to my workspace along with the Sourcebooks Instant Happy Notes ($8.99) — so cute!
Daily Concepts Your Hair Wrap Towel ($18) I haven't tried this yet, but I do love hair wrap towels, so I was really excited to add another to my collection.
Manduka eQua Mat Towel ($38) I'm not really the yoga type, but maybe this will give me the motivation to give it a try… maybe?
Dean & Deluca Peppermint Loose Leaf Tea ($10.75) I was pleasantly surprised to find loose leaf tea to add to my collection and I can't wait to try it.
Glade No3 Free Coconut and Beach Woods Candle ($4.99) This was my favorite item in the box.  I love candles, and all things coconut.  Plus, this was really cute packaging for Glade and has been living on my coffee table since I opened it.
The POPSUGAR January Must Have box came in at $190.73 worth of products for only $39.95. As always, you can shop here and use the code SHOP5 for $5 off of your first #MustHaveBox!