POPSUGAR sent me the December Must Have Box to try. As always, all opinions are my own.
This is my fourth POPSUGAR Must Have box, and I'm loving it! Most subscription boxes I've tried are hit or miss, but this one has been consistently great… It really is a Must Have!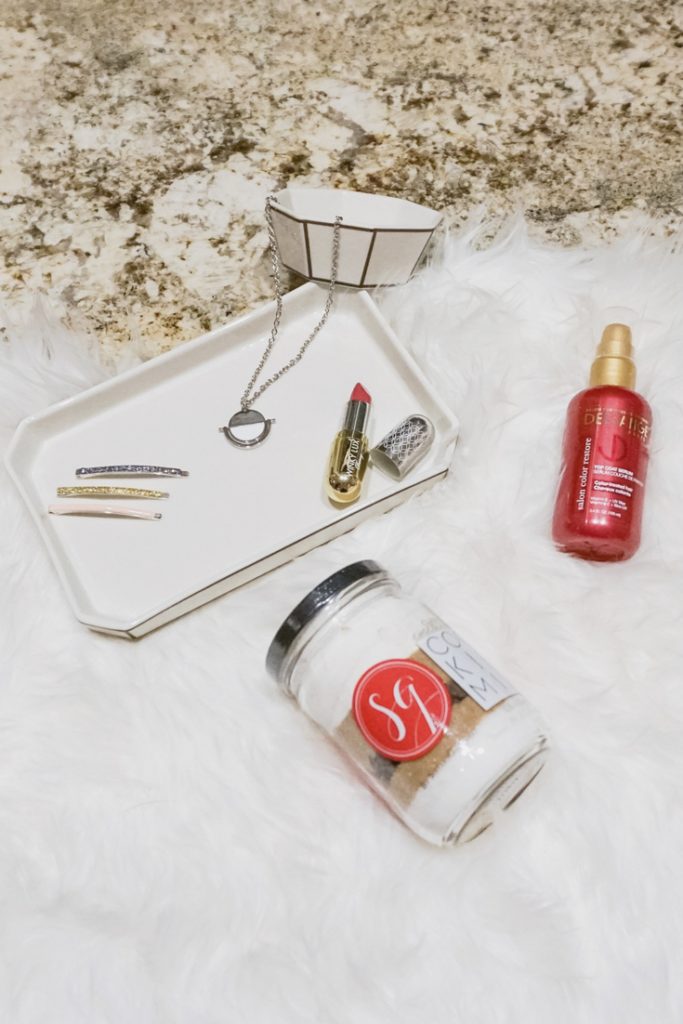 Odeme Catchall ($44) & Odeme Ring Dish ($23)
These two pieces are the perfect accessory for my desk! I've loved the home décor items included in the PopSugar Must Have boxes and these are no exception. The AJ Goods Nest Wire Bowl from November's box is now a permanent fixture on our kitchen table and has become a new home for our keys and I'm pretty sure this cute pair is going to make desk organization even easier.

Bauble Bar Pendant ($28)
This isn't really my personal style, but it's a gorgeous necklace and would definitely make a great gift. I'm still pretty obsessed with my Kendra Scott bracelet from last month so that makes up for it.

Mane Message Date Night Bobby Pins ($10)
I 100% could not exist without bobby pins and these are the CUTEST!

Winky Lux Lip Pill ($14)
The packaging is adorable on this lipstick and the color is perfect for the holiday season.
Sisters' Gourmet Classic Chocolate Chip Cookie Mix ($6.99)
I've seen the DIY version of these all over Pinterest, but I love that you can buy them all ready to go. They're the perfect hostess gift, too!

Dessange Top Coat Serum ($11.99)
I love a good hair product and this one smells really good. It's definitely a new go-to during these cold winter months.
The POPSUGAR December Must Have box came in at $137.98 worth of products for only $39.95. As always, you can shop here and use the code SHOP5 for $5 off of your first #MustHaveBox!