We spent the weekend enjoying the gorgeous Connecticut Fall weather and went apple picking at Silverman's Farm in Easton. After a cute tractor ride, careful apple selection and obligatory apple cider and apple cider donut purchases, we headed home. Pete loves apple desserts (read: all desserts) and had his heart set on an apple crisp pie so I checked out Pinterest for the perfect apple crisp pie recipe and came across this Cinnamon Crumble Apple Pie recipe from Bon Appétit October 2003.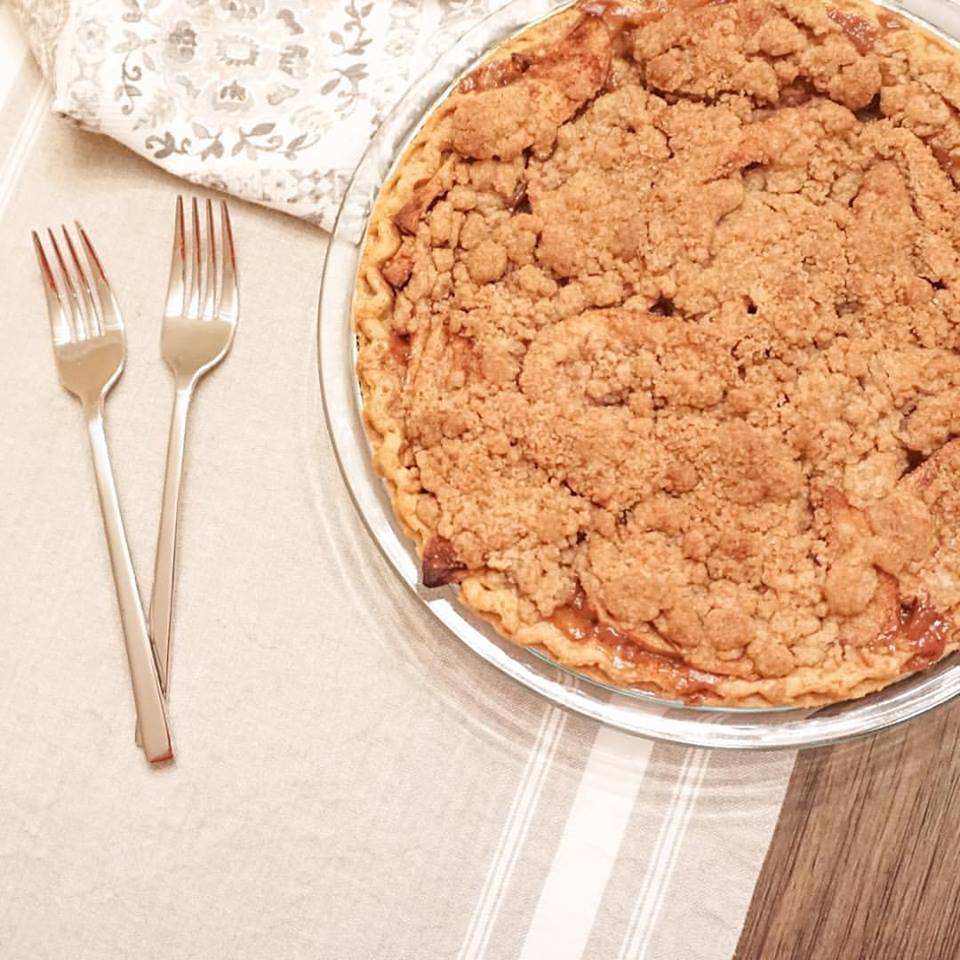 I wasn't planning on blogging this but I got tons of requests for the recipe, so here's my first attempt at a recipe post!  I wish I could say I came up with this on my own, or that it was some family recipe passed down for generations, but I tweaked the recipe above and the results were delicious.  Now, let's be real, I did not make a homemade crust.  But, if you're interested (and overly ambitious) it was included in the original recipe.
What you need:
Filling
3 1/4 pounds Golden Delicious & Honeycrisp apples, peeled, cored, sliced 1/4 inch thick
2/3 cup sugar
2 tablespoons all-purpose flour
3 teaspoons ground cinnamon
2 tablespoons unsalted butter, melted
Topping
1 cup all-purpose flour
1/2 cup sugar
1/2 cup golden brown sugar
2 teaspoons ground cinnamon
1/2 teaspoon salt
8 tablespoons butter
What to do:
Position rack in center of oven and preheat to 400°F.
Mix all of the filling ingredients in large bowl to coat apples.
Mix all of the topping ingredients with your mixer, adding butter until the mixture resembles wet sand.
Transfer filling to crust.
Pack topping over and around apples.
Bake pie on baking sheet until topping is golden, about 40 minutes.
Reduce oven temperature to 350°F. Bake until apples in center are tender when pierced and filling is bubbling thickly at edges, about 40 minutes longer.
Cool until warm, about 1 hour, and serve with vanilla ice cream!
We got a little carried away with the apple peeling and slicing and ended up with two pies, but I'm sure that won't be an issue in our house.  So, what do you think? Will you be making your very own Cinnamon Crumble Apple Pie this Fall?
Save
Save
Save