Some of these products were provided for review. This post contains affiliate links.
If you've been following along for awhile, you know I've always rocked short nails. That said, I love having all of my nails the same length and I've always had really weak nails. I'm always looking for nail growth tips from friends/family/bloggers with gorgeous nails. I had heard wonderful things about Biotin, but after trying a few different kinds I gave up because it made me break out. Instead, I decided to focus directly on my nails.
Tips for nail growth:
Use cuticle oil. Every day.
File with a glass nail file. This one is my favorite.
Use a strengthening polish in between (or underneath!) manicures.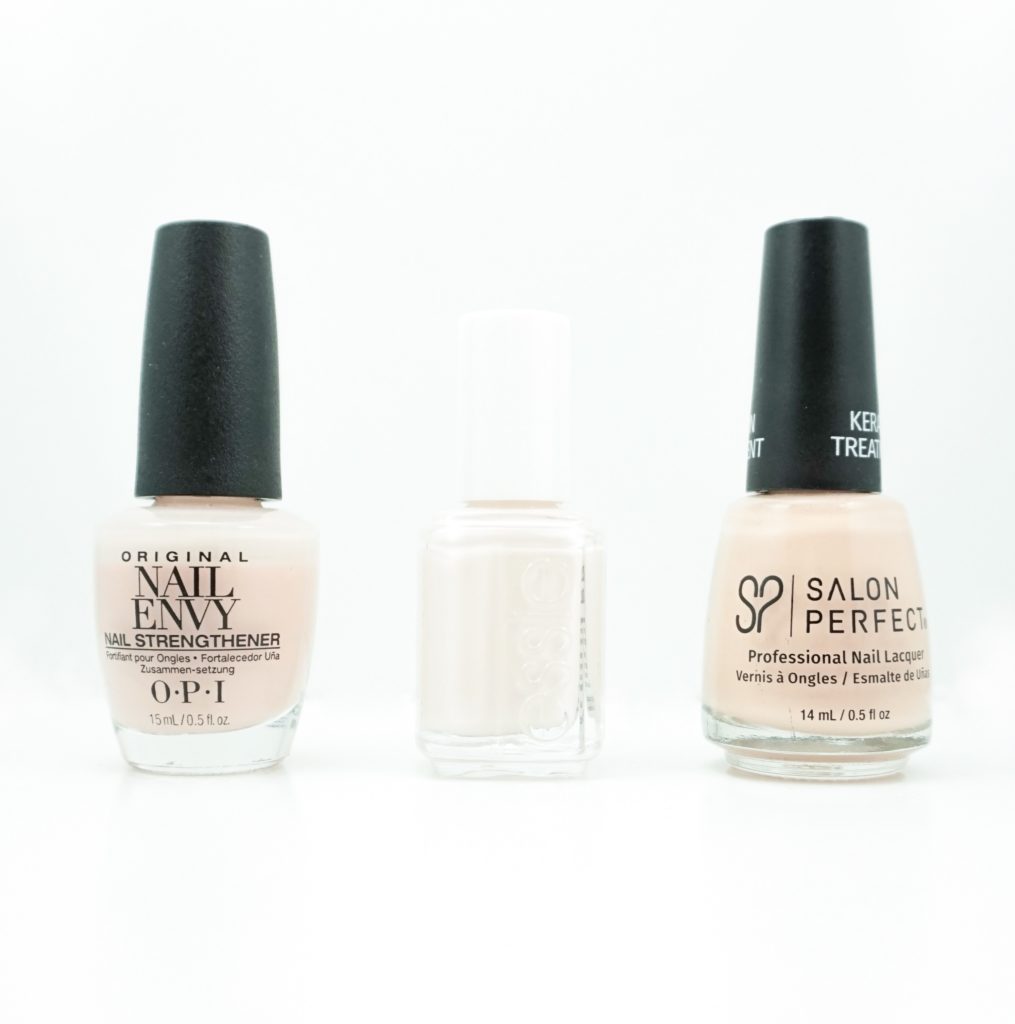 You may have seen me post a few times on Instagram about OPI Nail Envy. It's a serious game changer when it comes to nail care, and it's one of my all-time favorite beauty buys. The only thing I don't love about it is the price tag. It retails for $17.95.
I've been on Salon Perfect's press list for a while and I love receiving their products. Their false lashes are a great buy for the price point and their polishes are always so fun. I especially love their summer neons and holiday themed glitter toppers, so you can imagine my excitement when a package arrived on my doorstep filled with the new Salon Perfect Naked Nutrients line.
I love the neutral color selection and I grabbed "Pass the Skinny Dip" on the way out the door. For testing purposes, I applied the exact same way I apply OPI Nail Envy. Two thin coats without a base or top coat. I could tell that the polish was thinner, and without a base or top coat, it looked pretty uneven. Normally, that would not be a deal breaker, but it did not even last one full day. By the following day, it looked like I had been wearing it for at least a week. At only $3.98, I would still say it isn't worth the price.
After being so disappointed in that product, I decided to branch out and try another product. I purchased Essie treat love & color in "In a blush" on Amazon. Thank god for two day shipping because I got it just in time to try it out last weekend. Historically, I haven't had great luck with some essie formulas. After a normal manicure, the polish will stay tacky for hours and I often end up with sheet marks in my nails. Luckily, I did not experience that with this polish. It eventually dried, without an added top coat, and the color was gorgeous. After 6 days of normal wear and tear (which includes lots of work around the house), I only had a bit of tip wear. Overall, I was impressed.
I'll likely still grab my OPI Nail Envy over essie treat love & color, but at half the price, I think it's a great option if you're looking for a strengthening polish.
And if you're looking for nail growth tips because you're trying to break the habit of biting your nails, try Dermelect's new Resist Nail Bite Inhibitor + Restorative Treatment.
Comment below and let me know your favorite strengthening nail polish or nail growth tip!