Some of these products were provided for review for this luxury beauty gift guide, all opinions are my own. This post contains affiliate links.
I'm typically all about more affordable products, especially during the holiday season, but sometimes there's that one person on your list who you want to spoil. Whether it's your mom, sister, grandma, aunt or bestie, here's my luxury beauty gift guide with all of my favorite products over $60 for that special person on your list. You may even find the perfect gift for yourself!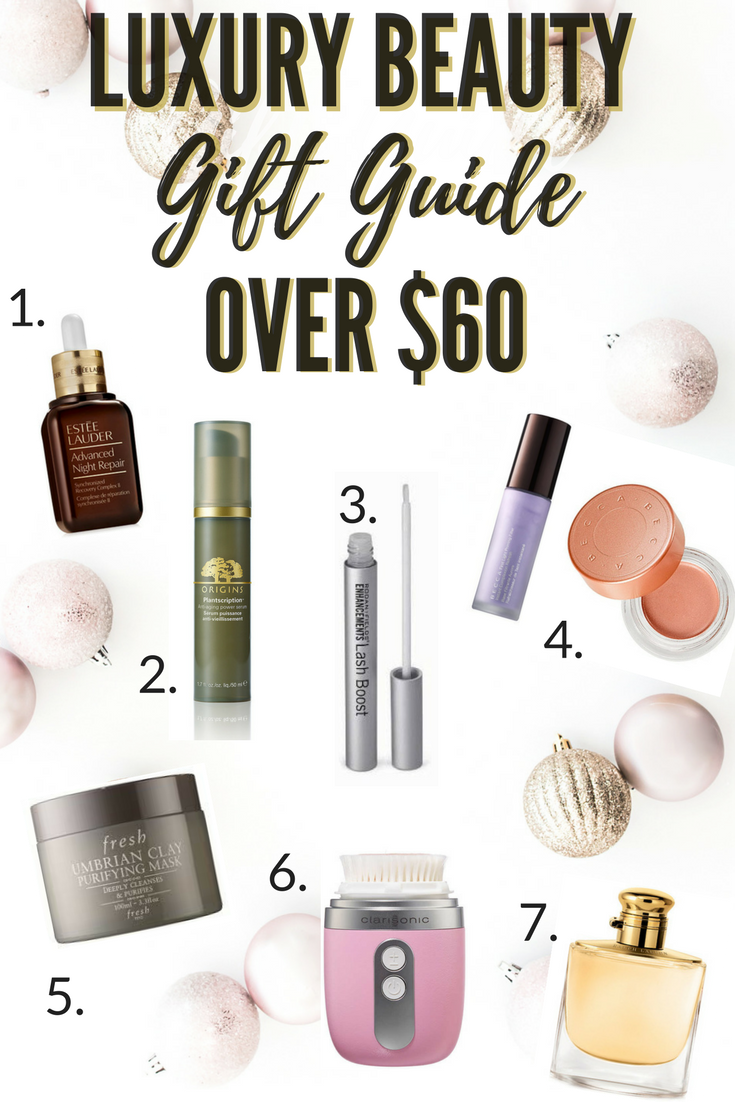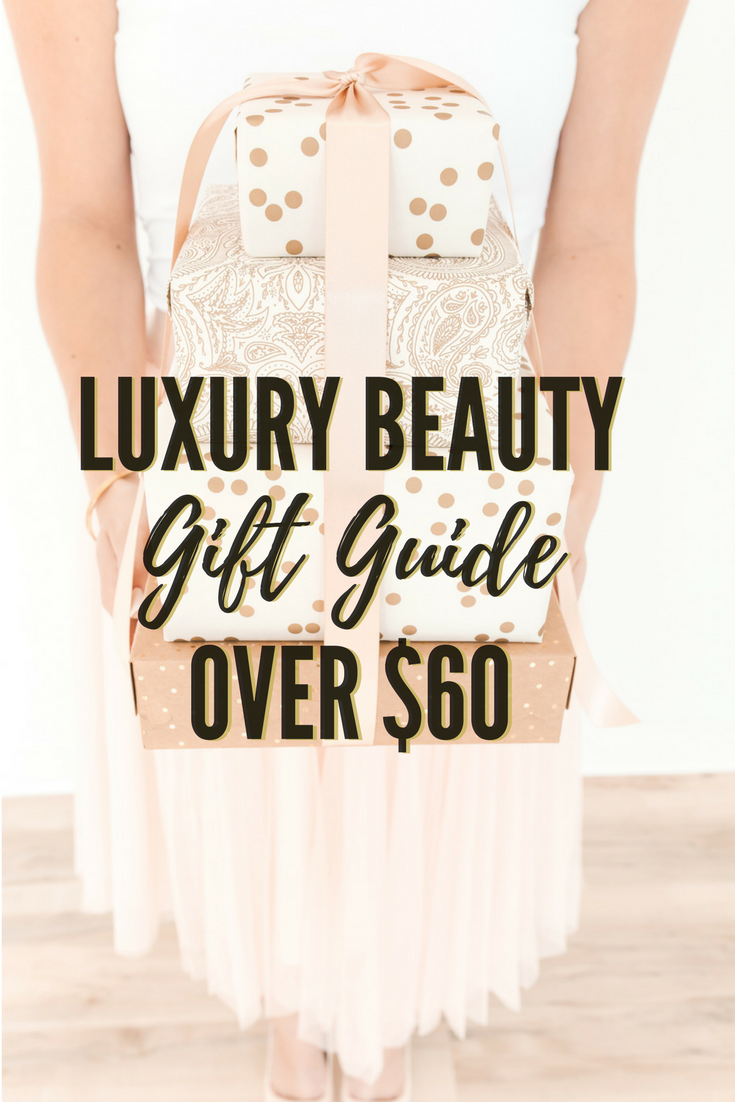 Estee Lauder Advanced Night Repair ($65)
This is the newest addition to my nighttime routine and I've been so impressed. It's hydrating and makes my skin look and feel softer overnight. A little goes a long way and all you have to do is apply on clean skin before your moisturizer – so easy!
Origins Plantscription ($59/$77)
This is another anti-aging product – they do tend to be pricy! It's intended to be used morning and night, but I've just been using it in the morning and I've seen a huge difference. This serum is super lightweight so it doesn't impact my makeup routine at all. In just 2 weeks, this powerful age-fighting serum helps visibly improve lines and wrinkles.
Rodan + Fields Lash Boost ($150)
This product was provided for review by an R+F Independent Consultant.
My husband has the most perfect eyelashes, so I live my life trying to keep up with him. I've spent a ton of money trying mascaras and primers to make my lashes visible but refuse to go down the road of lash extensions/fill. On my hunt for the perfect mascara, I've seen tons of reviews for Lash Boost from Rodan & Fields. Briana reached out to me via Instagram and offered to send me some Lash Boost to try. If I'm being honest, I truly didn't want to love this product, especially with a retail price of $150.
I attempted to take a "Before" photo, but my short blonde eyelashes were barely even visible and reminded me why I decided to try this. After the first week, I saw almost no results. Most of the reviews I read said that it took a few weeks, so I kept at it. Five weeks later, I have to say, I am super impressed. My lashes are longer and thicker and for the first time in my LIFE I got a compliment on my eyelashes. My longer lashes have made my daily makeup routine so much quicker and they even hold false lashes better on special occasions.
I am absolutely sold, and although the price tag is hefty, Briana is offering special pricing if you mention this post. You can find her on Instagram, visit her website or email her at skintervention.by.b@gmail.com
Becca Complexion Refresh Kit ($68)
You know when you find a product that completely changes your makeup routine and then you wonder how you ever lived without it? That's Becca's Under Eye Brightening Corrector for me. I have always had dark circles under my eyes (thanks, genetics!) and this product is a total game changer! The First Light Filter Face Primer is a lavender primer that smells amazing and makes me look like I got a full 8 hours of sleep. I received these as a set, but apparently they are sold separately. If you're looking to save some cash, definitely grab the under eye brightening corrector first and thank me later!
fresh Umbrian Clay Purifying Mask ($62)
This is my favorite luxury mask. It smells great, applies easily and minimizes the appearance of pores while purifying your skin. I recently discovered that it works wonders as a spot treatment, too! Plus, a little goes a long way so that definitely helps justify the price tag.
This is obviously a huge splurge, and the highest priced item on my list but it's also my favorite beauty product ever. I use it every single day and it has made an incredible difference in my skin. Plus, it makes washing my face fun. It retails for $219 but you can definitely get it cheaper if you do your research or wait for a good deal.
Growing up, I would always add perfume to my Christmas list, and it's a fun tradition to give or get a new perfume or your favorite classic to start the new year. This floral and woodsy scent wears really well throughout the day and is perfect for everyday and special occasions.
Let me know your favorite fancy beauty products and who you're buying for this Christmas and pin the image above to save these ideas or shop them below!